Cloud Cost Management
vs
CloudZero
Harness
Harness Cloud Cost Management empowers engineers with cloud cost visibility of their apps, microservices, and clusters.
Company size
251-500
Founded
2016
Funding
195m
CloudZero
CloudZero is a SaaS platform offering real-time cost anomaly and waste detection to optimize cloud costs and prevent accidental overspend.
Company size
11-50
Founded
2016
Funding
15.6m
CloudZero is categorized as:
Cloud Cost Management


We're the best solution to track your cloud costs.
Curious how Harness Cloud Cost Management features stack against the competition?
Engineering

Engineering

All

AWS Only

Hourly

Hourly

Optional

Optional

AWS Only

Non-Cluster Visibility (Services)

Anything in AWS

Utilized, Idle, Unallocated

Utilized, Idle

Automated Idle Resource Management

Cloud Cost Business Intelligence
Detailed Feature Comparison
Harness Cloud Cost Management Vs. CloudZero
Cloud Support:

CloudZero only supports AWS at this time and may not be the best solution for a multi-cloud environment. It also lacks vital features that Harness Cloud Cost Management provides out of the box, including support for all major cloud providers and unparalleled support for Kubernetes with regards to visibility and savings. For this reason, even AWS users should consider Harness Cloud Cost Management over a vendor-specific solution. Features like What If Analysis and Budgeting & Forecasting are non-existent in CloudZero, while others like Root Cost Analysis are incomplete. We encourage you to explore our platform and see what you might miss out on.

Tag Management Required:

Neither Harness nor CloudZero require you to tag your infrastructure to get granular visibility and understanding of your costs. CloudZero's specialty is in their automatic tagging assistance, which allocates resource costs by product, feature, and team. However, CloudZero provides only basic support for cost savings and visibility within Kubernetes, and only for AWS services, which is where Harness makes for a good decision. If you're looking for more support in Kubernetes than just great cost allocation within AWS, Harness Cloud Cost Management is worth checking out.

Hybrid Cloud Visibility:

CloudZero provides insights into the AWS public cloud only. Meanwhile, Harness provides coverage for AWS, Azure, and GCP. For any workloads running in Kubernetes, Harness provides visibility regardless of where the resources come from.

Cluster Visibility (Kubernetes/ECS):

While both Harness and CloudZero can provide visibility into cluster costs, CloudZero limits its insights to infrastructure running on AWS – it can surface costs in other locations but cannot provide detailed insight into anything running outside of AWS. If you run your cloud workloads using Kubernetes as your tool of choice across multiple clouds, CloudZero will not be the right tool for you. Harness truly shines in Kubernetes cost management and provides valuable visibility that other tools often fail to offer.

Root Cost Analysis (3 Metrics):

CloudZero does not directly provide insight into unallocated costs. Harness Cloud Cost Management provides granular views of all three, as these are crucial to understanding resource efficiency in Kubernetes. Harness also provides Kubernetes visibility and infrastructure insight outside of AWS, extending to any infrastructure setup that leverages Kubernetes.

Cloud Event Correlation:

To correlate feature releases or engineering deployments with changes in cloud costs, a cloud cost management tool needs to have context behind an organization's Continuous Delivery pipelines. CloudZero provides insight into cost changes as they correlate to deployments, however, we are unsure how they assign this context. Harness ties right into a customer's pipelines to make the correlation between deployments and cost changes as changes happen, with full visibility into where that context is pulled from.

Cost Recommendations:

Harness focuses on providing cost optimization recommendations for Kubernetes workloads. This allows customers to simply use existing resources in more efficient ways – no need to validate purchase, downsizing, and rightsizing recommendations that change the composition of the infrastructure. Where CloudZero is different is that it does not provide these recommendations for Kubernetes resources. Instead, it will surface optimization opportunities for your AWS resources, which, when paired with the capabilities Harness has for Kubernetes, actually can result in fully-optimized infrastructure. It's very likely you can use AWS Cost Explorer to find the same savings insights that CloudZero provides, with the difference being that CloudZero provides the business context that relates to the cost savings opportunities.

Key Takeaways:

CloudZero provides a good set of visibility and savings tools for AWS. It provides insights that engineering teams can consume in order to avoid bill shock and make real-time decisions/corrections with. As a firm believer in empowering engineers to manage cloud costs – not just finance teams – we must give credit where it's due and congratulate CloudZero on their efforts to implement bottom-up, not top-down accountability that promotes business context as a first-class citizen. However, CloudZero falls short in providing support for multi-cloud setups, cost savings, and forecasting capabilities, which is where the world is headed. Customers may find themselves lacking support for day-to-day operations, as with services such as What If analysis and plain old cost reporting, and due to the small size of the company, find innovation lagging. Overall, CloudZero is a good tool if your primary use case is to allocate your costs to the appropriate teams, applications, or products.

If you're looking for rich multi-cloud and container cost visibility, savings, and forecasting, Harness Cloud Cost Management is the clear winner. Harness understands the pressure on engineering and financial management teams, and the requirement to paint a full picture of cloud costs that includes container costs. Harness is a low-effort solution that gets customers more value out of the cloud.
*Please note: Our competitors, just like us, release updates to their products on a regular cadence. We keep these pages updated to the best of our ability, but there are bound to be discrepancies. For the most up-to-date information on competitor features, browsing the competitor's new release pages and communities are your best bet.
Cloud Cost Management
Interested in seeing what's under the hood? Browse through the Harness Cost Management Product.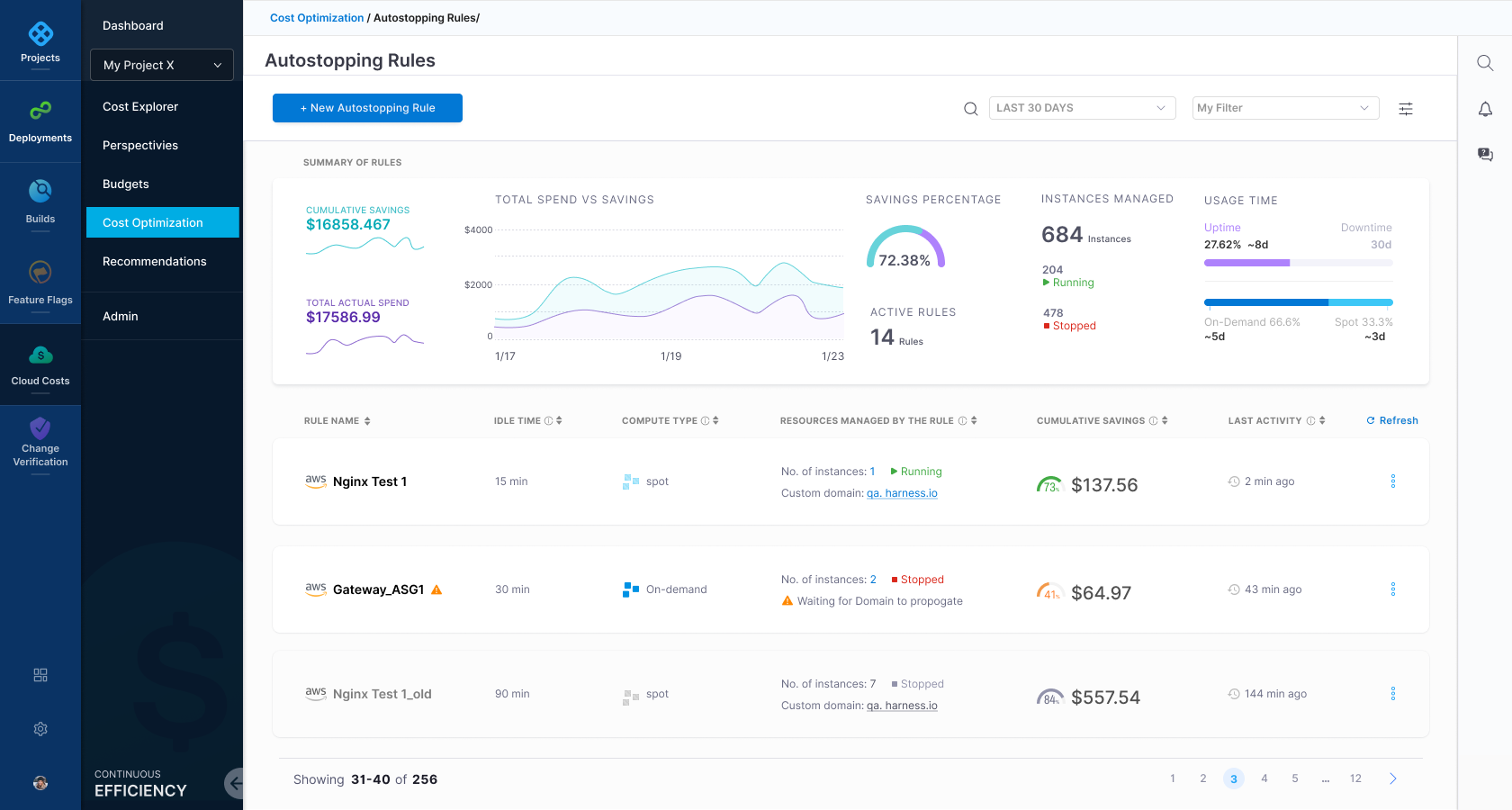 Don't believe us? Check out what these beautiful people have to say.
Don't just take our word for it, see why customers love Harness Cloud Cost Management as compared to our competition.
Our environment was heavily under-optimized, but we've seen a 60 to 70% cost savings without any hassle for our infrastructure management teams.
Dheemanth Ramesh, CTO, Discover Dollar
CloudZero has helped us identify any anomalies within our pipeline so that we don't get hit with all those unexpected costs. Being a startup company this is extremely important to us.
Source, G2 Crowd
During the first 30 days with Harness CCM we saw a noticeable change in our cloud spend, with six-figure annualized savings.
Shelby Lewin, Technical Product Manager, Relativity