Harness
Continuous Delivery
vs
Argo CD
Harness
Harness provides a simple, safe, and secure way for engineering and DevOps teams across all industries and maturities to accelerate building and testing of software artifacts.
Company size
251-500
Founded
2016
Funding
195m
Argo
Argo CD is a GitOps tool that allows you to maintain your Kubernetes resources within Git. Argo CD automatically syncs your Kubernetes resources with what is in your Git repository.
Company size
-
Founded
2018
Funding
-
Argo CD is categorized as:
Continuous Delivery
We're The Best Continuous Delivery Solution, See For Yourself.
Harness CD Vs. Argo CD
On-prem Only

K8s Only

Infrastructure Provisioners

CloudFormation and Terraform

GitOps (Pipelines as Code)
Detailed Feature Comparison
Harness CD Vs. Argo CD
SaaS & On-Premises:

Argo CD is an open-source solution, and as such, only offers an on-prem version. Harness provides both on-prem and SaaS versions of the product, which adds appeal for those who don't want to manage or maintain backend servers.

Ease of Use:

Argo CD has an easy setup - you can be up and at 'em in ~10 minutes. But there are some areas of improvement: for example, when it comes to sync options, it's unclear what's being applied to what - a small UI issue that could use more clarity. Additionally, Argo CD doesn't support standard SSO providers like Okta - but Harness does. Other than the setup, there are some other small things. For one, cluster creation can only be done via CLI. Argo CD also requires a paradigm shift in how you deploy: traditionally, you kick off a deploy (or it's part of an overarching deployment pipeline), but Argo CD is true GitOps - and if you take advantage of their automated sync functionality, when you make changes to your Helm charts, they can be automatically deployed inside your cluster. For instance, if you set an environment variable DEBUG = TRUE in your Helm chart repo and merge it, Argo CD can automatically update your deployment to reflect that change. To drive this home, there's no action outside Git that's needed on behalf of the developer. While most developers are comfortable with this, a lack of UI-driven pipeline execution limits the scope of users and increases the learning curve. Lastly, Argo CD's beloved Waves functionality will be getting the royal treatment in Harness: our Deployment Scheduler provides a rich experience and UI that allows users to choose which versions of the software get deployed when, and to which user groups.

Traditional App Support:

Argo CD was designed to be cloud-native and has no support for legacy/non-cloud/monolithic technologies. Harness does provide support for traditional apps.

Canary Deployments:

Argo CD has PreSync, Sync, and PostSync hooks to support complex application rollouts (Blue-Green & Canary). There is documentation on how to configure Canary deployments but much of the configuration is left to the engineer. Harness provides guided Canary deployments out of the box – no coding required, only some minor config.

Continuous Verification ™:

Continuous Verification is the process of monitoring your app for abnormalities after a deployment. For example, Continuous Verification could catch a latency issue or 5xx errors and automatically roll back your app to the previous version. The idea is to catch errors as quickly as possible – ideally, before customers notice – and make a seamless transition back to the prior version. Argo CD offers a feature called auto sync that allows you to implement manual checks. They also have automated rollbacks, so you could put a post-deploy hook into the chart to perform some smoke tests, and if that fails, roll back. It's a bit of a manual process to do all this. Harness, however, provides Continuous Verification out of the box, effectively reducing risk and reputational damage from downtime. Harness supports many vendors, including Prometheus, Datadog, AppDynamics, New Relic, StackDriver, CloudWatch, and custom monitoring and observability tools.

Change Management Jira/SNOW:

Currently, there is no Jira/SNOW integration for Argo CD. Harness offers integrations for both Jira and ServiceNow in a substantial way: with our integrations, users can leverage JIRA and ServiceNow as approval mechanisms – you'll be able to approve or reject a pipeline or workflow step all in one place!

Role-Based Access Control:

Argo CD offers only cluster-level RBAC permissions, which basically means either read only, or admin. RBAC, in Harness, is much more flexible. Multiple permission levels can be created and users can be added to more than one in order to provide the exact level of access needed.

Secrets Management:

Argo CD does not offer native secrets management capabilities. There are many ways to do it through a third party, such as HashiCorp Vault or Helm Secrets. Harness, on the other hand, offers proprietary, integrated secrets management. No third parties are required, but all major secrets managers are supported.

Audit Trails:

Argo CD provides audit trails for application events and API calls. There is also fairly robust Git auditing that provides the who, when, and what of changes. Harness provides audit trails on every pipeline, workflow, step, execution, and change. Harness provides resource-level audit trails. It's all audited by Harness so you have a complete trail of all user activity.

Accelerate Metrics & Reporting:

There are four key metrics when it comes to software development: Lead Time (the average amount of time it takes from the time code is checked in to the version control system to the point in time where it is deployed to production), Deployment Frequency (the number of times deploys to production occur in a time period), Mean Time to Restore (MTTR: how long it takes to resolve or rollback an issue in production), and Change Failure Rate (what percentage of changes to production fail). These metrics are paramount in truly understanding performance. Argo CD does not provide native Accelerate metrics dashboards. Harness offers a beautiful dashboard specifically for these metrics and allows you to set alerts as needed – for example, you could set an alert to notify you if the Change Failure Rate goes above 1%.
*Please note: Our competitors, just like us, release updates to their products on a regular cadence. We keep these pages updated to the best of our ability, but there are bound to be discrepancies. For the most up-to-date information on competitor features, browsing the competitor's new release pages and communities are your best bet.
Harness CD
Interested in seeing whats under the hood? Browse through the Harness Continuous Delivery (CD) Product.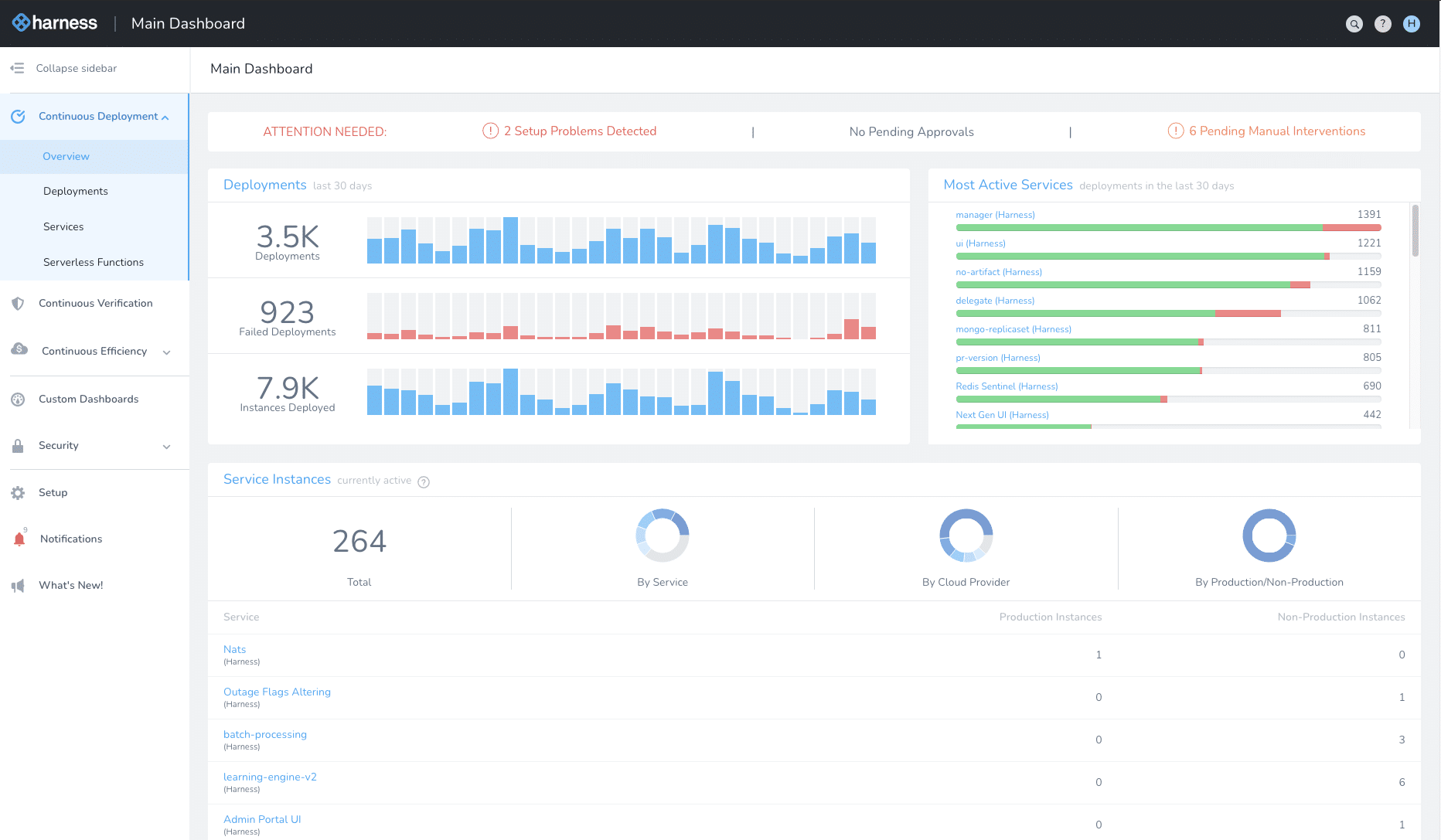 Don't believe us? Check out what these beautiful people have to say.
Don't just take our word for it, see why customers love Harness Continuous Delivery (CD) as compared to our competition.
Harness is one of the premier tools available for handling Kubernetes-based deployments.
Harjot Gill, General Manager, Epoch, Nutanix
Argo provides waves so you can push more of your deployment steps into Kubernetes.
Marcus Bastian DevOps Consultant, Clouductivity
Harness allows our developers to deploy themselves without speaking to Ops. Openbank strives for technical excellence. With Harness, we get that for software delivery.
Javier Ros, Head of Architecture, OpenBank